There has been a significant increase in the number of hacking attempts, and choosing an easy to remember, but hard-to-guess password, is very important to prevent your online accounts from being compromised. Microsoft now can help you prevent choosing weak passwords, with the help of an experimental tool called Telepathwords.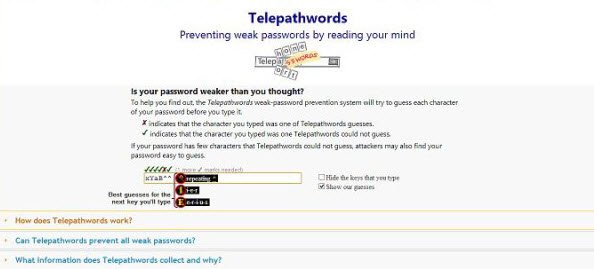 Telepathwords from Microsoft Research
Microsoft Research has come up with a new tool which detects how risky your passwords are, by guessing your password setting habits. The tool 'reads your mind' and works on an arsenal of data of common passwords used by you in the past. The tool was tested by hundreds of Microsoft employees before releasing it for public use.
Explaining the functioning of Telepathwords Microsoft says, "To guess the next character you'll type, we send the characters you have already typed to query our prediction engine. The prediction engine uses a database of common passwords and phrases that are too large for us send to your computer".
Telepathwords reads your password setting habits and guesses your passwords. It predicts your password on basis of your most commonly used passwords stored in the database. The tool is very prompt and can even guess the next character you are about to type while setting your password. Your password is of course weak and need to be changed if guessed by the new Microsoft tool, Telepathwords.
Telepathwords tries to predict the next character of your passwords by using knowledge of:
Common passwords, such as those made public as a result of security breaches
Common phrases, such as those that appear frequently on web pages or in common search queries
Common password-selection behaviors, such as the use of sequences of adjacent keys.
Earlier this week usernames and passwords of about two million accounts on social networking websites like Facebook, Gmail, Twitter, and LinkedIn were compromised. What all we need is a strong password and this new tool from Microsoft can help us.
Do try out Telepathwords from Microsoft Research and let us know how it worked for you.