For all those interested in US Presidential Elections and looking for a timely source to find what's happening, here's a surprise. Bing, the search engine from Microsoft announced a new portal for tracking up-to-the-date information about US Presidential Elections scheduled to be held on Tuesday, November 6, 2012.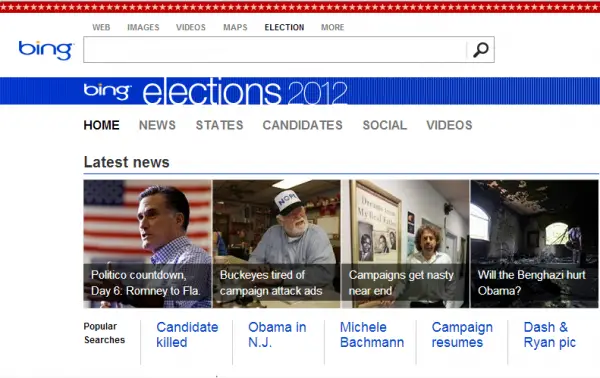 The portal, Bing.com/elections as it is called boasts some useful features like real-time algorithmic news and slider from specific hand-picked sources/news outlets such as Politico, Real Clear Politics, The Cook Political Report, Huffington Post and more. Besides, the website has ability to filter news sources by one's political views.
We launched the Bing Election hub to address an unmet customer need – providing a single comprehensive place to go for election news, results, highlights and analysis of what's happening across Facebook and Twitter. Said Mike Nichols, Corporate Vice President and Chief Marketing Officer at Bing.
He further adds:
Whether you're doing research to inform your vote, want to stay in the know on the latest news and social media developments, or are looking for a great Web experience to complement your TV viewing, bing.com/elections is the place to go.
Bing.com/elections does offer several more features:
An easy-to-use, up-to-the-minute comprehensive resource for national and local news information and analysis:
A dynamic, interactive map with national and local election results as they are reported
Easy access to national and local election information
Local voting information and key election issues
Bing.com/elections seem to be a good initiative from Microsoft to drive more Google users towards it and press them to choose Bing over Google. Bing Elections will also be featured as part of a new advertisement launching on network and cable TV, beginning Nov. 4 and running until post-election.
For more information you can visit Bing.com/elections to join the conversation. After all, it's voters who are going to decide the course of the election race!
Yahoo! also lets you track U.S Presidential elections real-time.