The paid Twitter app for Windows 8, Tweetro+ is now available at a discounted price of $4.99 which was previously priced at $9.99. Lazyworm Applications re-launched Tweetro, a popular Twitter app for Windows 8 earlier this month. Lazyworm launched it as a paid application, and the starting cost for Tweetro+ app was set to $9.99. The developer had plans to raise the price of Tweetro+ to $12.99 in next few weeks, but appears to have abandoned it.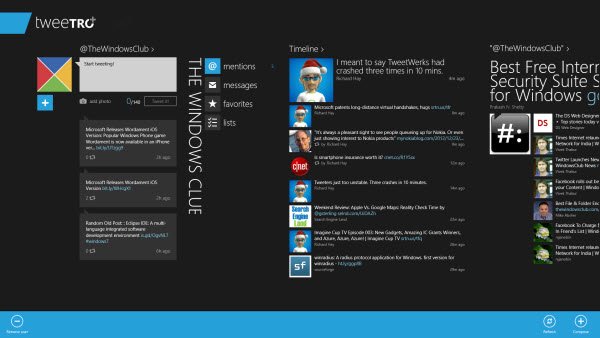 The development team of Lazyworm Applications has lowered the price of the Tweetro+ app to $4.99 naming it as a holiday discount. There is also some discount offers for the Windows 8 users who have already purchased the app.
Talking about the holiday season discount, Atta Elayyan cofounder of Lazyworm Application stated-
"Customers who have already purchased the app can also take advantage of the $0.99 in-app purchase for extra account slots (was $2.99)."
Atta Elayyan also gave the update on gross sales of the specific Twitter app for Windows 8-
"Tweetro+ sales have been steady since we re-launched at $9.99 however the numbers have been well below expectations.  Despite this, we're currently the top paid app in the social category and in the top 10 out of all paid apps in the US Store.  So in the scheme of things, it appears, we're not doing too badly."
The sales of Tweetro+ will probably soar high with this special holiday discounted price of $4.99.
According to the Twitter rules, no third party app can have more than 100,000 accounts and thus Tweetro+ will be pulled out of sale once it reaches the set level of 100,000 accounts.