In recent times, we have been hearing about several websites data base being compromised – and Twitter wasn't an exception. Twitter accounts too are being compromised by mail phishing schemes or breach of passwords. It can be pretty damaging when this happens as influential accounts can be misused to spread false news tweeted from such compromised Twitter accounts. We had seen how The Associated Press AP Twitter account had been hacked, and a tweet was posted saying that the US President had been injured in White House blasts, plunging the markets sharply. Yet another example was when the Burger King Twitter Account had been hacked.
To address these security issues, Twitter has introduced Login Verification, a new security feature for better protection of its accounts. It is a form of two-factor authentication. When you sign in to Twitter.com, there's a second check to make sure it's really you.
To make the changes and get started , go to your Account Settings page.
And select 'Require a verification code when I sign in'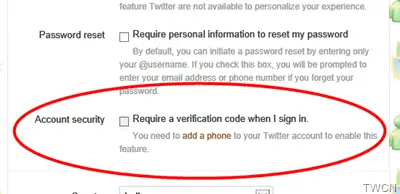 You will have to add a Phone to your Twitter account to enable this verification code feature. Follow the prompts.
Once you get enrolled for this verification, you'll have to enter the 6-digit code that will be sent via SMS to your phone, each time you sign-in to Twitter.com.
Before enrolling, please watch this video for the complete login verification process . Quickly learn how to enroll your account into SMS-based login verification in this video.
[youtube http://www.youtube.com/watch?v=IsdvJI0AK5M&hl=en&hd=1]
Twitter Login Verification
Your existing applications will continue to work without disruption after the login verification is enabled. But when you have to sign-in to Twitter on other devices and apps, you have to go to Applications page to generate a temporary password to log in and authorize that app.
Twitter further advises to always use a strong password and other security features even when you start using this new Login verification feature. Since this feature is built on top of Twitter via SMS, Twitter should be able to send a text to your phone before you can enroll in login verification. During the process it asks to send a test message too, before enrollment.
Twitter also said that more account security enhancements will be introduced in the future.