Burger King's Twitter account (@burgerking) got hacked and was made to display the McDonalds logo. Burger King (@Burgerking) had more than 89,000 followers in its Twitter account which was hacked today morning. Since then the Burger King account has been posting hilarious tweets about Burger King and retweeting others' observations on the hack. The hackers changed the fast food chain's Twitter icon to the McDonald's logo and the username was also changed to McDonald's.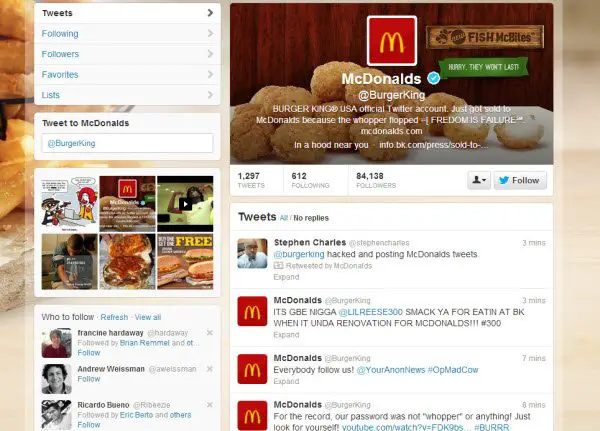 Hackers posted on account profile,
"We just got sold to McDonalds! Look for McDonalds in a hood near you @DFNCTSC."
30 minutes after the hacking, the Twitter wall was filled with videos and photos making fun of Burger King.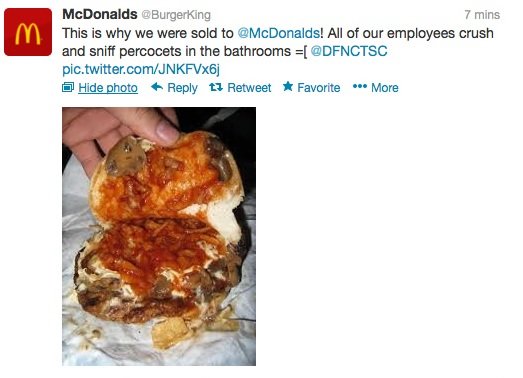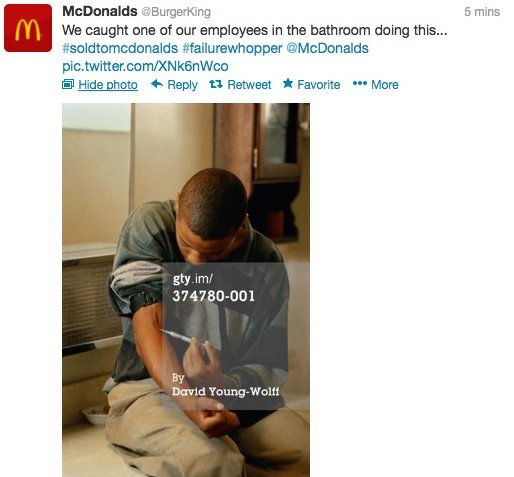 The hackers posted a photo on Burger King Twitter wall showing a man injecting a syringe in his arm with the tweet saying,
"We caught one of our employees in the bathroom doing this…."
The account is hacked allegedly by member of Anonymous hackers group, but the reasons are yet unknown. There is no reaction yet from Burger King Inc. based in Miami. Neither Twitter nor Burger King has commented anything regarding the account hack.
Twitter account or Burger King (@Burgerking) has suspended but users are still posting the side-splitting tweets about the hack. Burger King probably  got more action today than in the past two years.
Hackers groups Anonymous just posted a tweet saying, "We're guessing the @BurgerKing social media team is having a bad day".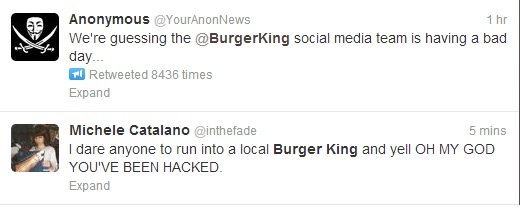 This is not the first hacking news on Twitter; more than 250,000 Twitter account passwords had been compromised by hackers earlier this month.