WhatsApp continues its war against fake news and disinformation spreading through its app. The Facebook-owned instant messaging app is now providing users with a new experiment Search the Web to curb the spread of misleading content and political propaganda among users and prevent them from abusing the communication platform.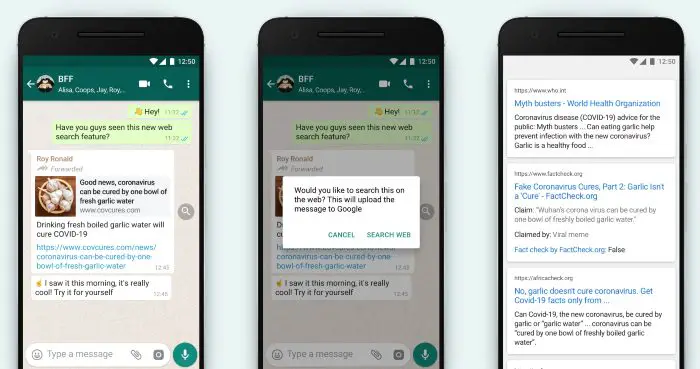 WhatsApp launches 'Search the Web' feature
As a result of this change, WhatsApp wants users to double-check and verify the authenticity of messages they receive on the app.
"We're piloting a simple way to double check these messages by tapping a magnifying glass button in the chat," WhatsApp said in its blog post. "Providing a simple way to search messages that have been forwarded many times may help people find news results or other sources of information about content they have received."
WhatsApp users in select regions will now be able to verify and fact-check highly-forward WhatsApp messages. Users will see a magnifying glass button next to the message.
Once you tap the button in the chat, WhatsApp will prompt you to search the message on the web: "Would you like to search this on the web? This will upload the message to Google." You can either tap cancel or search the web. Tapping the search web option will upload the message in Google search.
WhatsApp's Search the Web feature is currently available in select countries, as follows:
Brazil
Italy
Ireland
Mexico
Spain
The United Kingdom
The United States.
Are you looking to try WhatsApp's new Search the Web feature? Make sure you have the latest version of WhatsApp for Android, iOS, and WhatsApp Web.
A few months ago, WhatsApp implemented new limitations on the number of times individuals can forward a particular message in the wake of the pandemic. WhatsApp introduced a new limit on forwarding a messaging saying it can only be forwarded to one chat at a time.
To address the fake news issue, WhatsApp realizes the importance of bringing into effect certain product level changes, something WhatsApp has been doing for quite some time now. Let's see when WhatsApp launches Search the Web feature in markets like India.
Meanwhile, here is how you can send WhatsApp message without saving a number via PC or Phone.