Microsoft recently released Windows 10 Insider Preview Build 14279 for PCs to the Fast ring. Just last week we had seen the release of Build 14271 for PCs and Mobile build 14267.1004. Though there's no new build for mobile from the Development Branch today. Let us see some more details about today's build.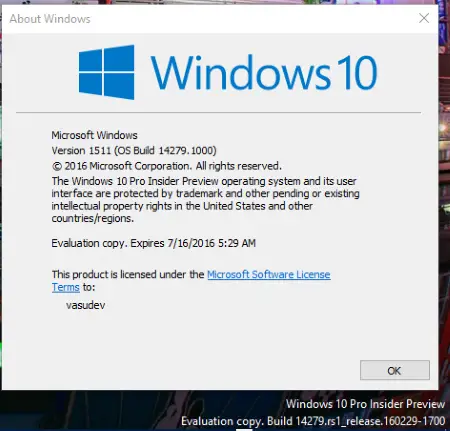 What's new in Windows 10 Insider Preview Build 14279
Cortana now supports more languages: This build enables Cortana for Spanish (Mexico), Portuguese (Brazil), French (Canada) languages. Each of these new market, language will have the relevant customized experience. These are early versions and Microsoft will continue to improve based on the feedback.

Cortana gets memory: Now you don't have to forget something in your busy day schedule.
"With Cortana, you can now save useful information like the name of a book you want to read (ex: "remind me to read [insert book name]"), or a to-do item without a due date (ex: "remind me to wash the car")."
Later one can add location, time, people so that Cortana can bring it at relevant time. These can also be edited. In future builds Cortana will be able to retrieve it for you on request.
Logon experience improved: If you are Windows 10 mobile user, you might have seen the single background for the Lock Screen and logon screen. Similar behavior is now brought to PCs. Earlier there were two separate backgrounds for Lock screen and the logon screen but now they have been merged. If you have Customised Lock screen background, then it will be used for both. Those using Windows Spotlight, this change will be brought soon. Microsoft is planning to add more tweaks and make the logging experience smoother.

Japanese IME improved: Performance of Japanese IME especially on typing response has been improved. Prediction content too extended providing wider choice.
Apart from these new things, many issues too have been fixed in this build.
What's fixed in Build 14279
Issue of crashing of Microsoft Edge and Cortana for users having roaming profile is fixed

Issue where Cortana would continue to show reminders that have been completed is fixed

Items copied/moved to desktop will not display until manually refreshed is fixed

Issue of certain drivers downloaded from Windows Update causing bluescreen is fixed
Known issues in Build 14279
Some Surface Pro 3, Surface pro 4, Surface Book freezes or hang. Workaround is to hold down Power button to force the device to hard-reboot

Some PCs will freeze or bluescreen after resuming from hibernation. Disable hibernation in such cases until fix is issued

As seen in earlier build too, this issue of PCs having Kaspersky Anti-virus, Internet Security, or the Kaspersky Total Security Suite will not work due to a known driver bug. Microsoft is partnering with Kaspersky to fix this issue.

The issue of notification area looking out of alignment when 'always show all icons in the notification area' is turned on disrupts the layout of systray. This was mentioned in earlier build too.

Apps such as QQ crashing due to OS reliability issue is under investigation. This bug also impacts Windows Live mail and Expression Encoder 4.
Apart from these announcement, Gabe Aul also asked the insiders to provide feedback and further said one can also try some more improvements
Sway integration with Photos app: We have already seen recently, details about Sway integration with the updated Photos app. One can try out this feature in this build by Clicking on 'Tell your story with Sway' in albums of the Photos app. This will make the album interactive, web based so that one can add section headers, text narrations, captions and create ones own story.
Xbox app (beta) gets March updates: A new update to the Xbox app (beta) for Windows 10 will add some new features including a Gamerscore Leaderboard and updated 'Featured' section.
Gabe Aul also said that no mobile build is being released today and informed that firmware updates for Windows 10 devices will now be auto-published for our Windows Insiders when they become available.