Are you still using Windows Live Writer and wanted it to be improved? Here's a very positive news about it. Windows Live Writer is now open sourced by a team of developers from within Microsoft – and called Open Live Writer. Many users would have forgotten Windows Live Writer,  one of the best programs released by Microsoft. It was part of Windows Essentials and its development was stopped in 2012, though this 2012 version is still available for download. Windows Live Writer is a program which allows you to write blog posts offline and then publish it to almost any blogging platform.

Open Live Writer
Yesterday, Scott Hanselman broke the news of availability of Open Live Writer as its been named.
An independent group of volunteers within Microsoft has successfully open sourced and forked Windows Live Writer. The fork is called Open Live Writer (also known as OLW) and it is part of the .NET Foundation and managed by this group of volunteers.
Since the past few months, a very passionate group of developers, volunteered their time to ensure that Live Writer has a sustainable future. TWC had also mentioned about it, Microsoft will Open-Source Windows Live Writer. And users and fans of Windows Live Writer were eagerly waiting for it.
Announcing on the .NET foundation blog, Rob Dolin, Senior Program Manager, Microsoft Cross-Platform and Open Tools team said:
It's a great day for bloggers who have a favorite tool for creating content. Today Microsoft announced that Open Live Writer was released and has been contributed to the .NET Foundation. Open Live Writer is an open source application enabling users to author, edit, and publish blog posts. It is based on a fork of the well-loved but not actively developed Windows Live Writer code. Scott Hanselman helped carry the torch at Microsoft on this project,
The present version of Open Live Writer is 0.5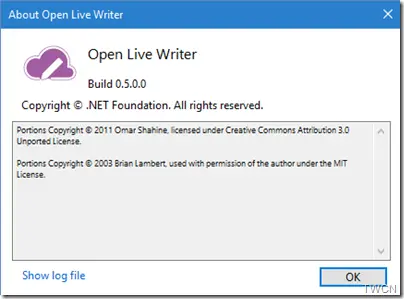 But why 0.5 now instead of waiting to get to a v0.9 or a v1.0? This is because the .NET foundation wanted it to be made available as an open source project as quickly as possible to people outside of Microsoft so that they start participating. Also folks on Google's Blogger team asked to ship no later than early December 2015 so they could turn-off an old API that Windows Live Writer was dependent on.
As of now, when I tried to sign-in to Blogger blog using Open Live Writer, it is not being allowed. Hope that it will be resolved soon.
Open Live Writer is designed to sit side-by-side with Windows Live Writer, so installing Open Live Writer won't impact your existing version of Windows Live Writer.
One can download the latest version of Open Live Writer from openlivewriter.org. It's great to see one of Microsoft's best tool is being kept alive.
Open Live Writer is NOT a Microsoft product. It is an open source project under the .NET Foundation and is managed and coded by volunteers. Some of the volunteers work for Microsoft and are doing this work in their spare time.
For more info and the announcement, please check the source.
Open Live Writer is now available in the Windows Store as a Trusted app.