Microsoft has been building new mixed reality platform in order to brace for the near future. In fact, it all started with the Hololens and the recently announced Hololens Spectator. Microsoft will also take care that the new waves of creativity should be affordable and accessible to all. Also as announced earlier the company has partnered with OEM's including Acer, Asus, Dell, HP, Lenovo, and 3Glasses in order to churn out a wide range of headsets that would go along with the Windows Mixed Reality-ready PC.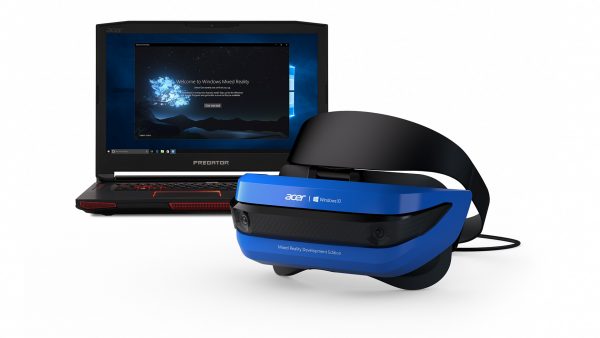 Windows Mixed Reality Development Kit
These mixed reality devices will be a first of its kind and will not require outside tracking which also means that one would not need purchase external trackers and sensors.
The Acer Windows Mixed Reality development edition headset was announced at the ongoing GDC conference at San Francisco and will be given to the game developers who attended Windows Mixed Reality session at GDC. If you are a game developer and interested in creating content for Windows Mixed Reality you can sign up for the same at [email protected]
The Acer kits will contain Acer headset, access to Windows 10 Insider preview builds and SDK's to help developers build mixed reality applications.
The specifications of the Acer Windows Mixed Reality Development headset include two high-resolution LCD at 1440 x 1440, refresh rate of up o 90Hz, built in audio out and microphone support via 3.5mm jack and Single cable with HDMI 2.0 and USB 3.0.
With the developers, onboard Microsoft is ideally looking at creating a whole new mixed reality ecosystem and put up the apps alongside 20,000 other Universal Windows applications. One will also be able to stream an Xbox game to Windows 10 PC and enjoy immersive experiences.