Apple Inc. will reportedly pay to the Brazilian Company Gradiente Eletronica SA, (now turned into IGB Electronica) for using iPhone brand, says a Brazilian telecommunications analyst.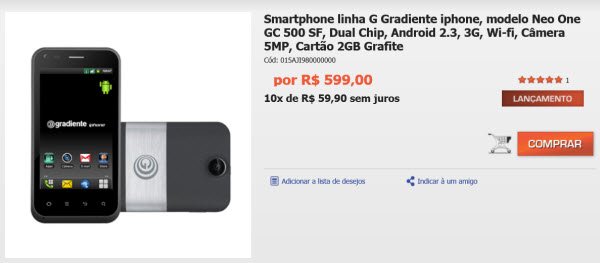 Brazilian company Gradiente SA won the legal right to use the brand name iPhone last week and released its first iPhone running on Android 2.3.4.
Talking about this, President of Brazilian Telecommunications (Teleco) Edurado Tude, said –
"The most likely scenario is that the two companies will reach an agreement whereby Apple will pay Gradiente for the use of the brand."
Tude further said that Apple doesn't want to stop selling its products in Brazil and thus would probably agree for paying Gradiente SA a set amount.
Apple has commented nothing on this matter yet.
Brazilian electronic company Gradiente Eletronica SA won the rights of using iPhone as its brand name in 2000, whereas Apple brought up its first iPhone in 2007. The Brazilian Company has the exclusive rights to use the brand name through 2018.
Eugenio Staub, president of Gradiente Electronica said in one of its telephonic statements: "Apple had not contacted us, even after knowing we were given the right to use the iPhone brand."
Answering the question, If Gradiente would allow Apple to pay for the rights of brand name, president Staub said: "…at this point we have nothing planned."
Gradiente Electronica issued a statement last week saying: "this company will adopt all the measures used by companies around the world to preserve its intellectual property rights."
According to the statements made by the Brazilian company Gradiente, they did not use the iPhone brand name until now because they were planning a corporate restructuring on priority. Gradiente Electronica was restructured as IGB Electronica earlier this year.