Bing just announced that the updated Bing app is available for iPhone. Prior to this, Bing released a few new features to simplify the privacy controls in the Bing app. All these features are now available in the Private Search mode in iPhone. The Privacy Search mode can be enabled from the Recent Tiles window, which makes privacy even more accessible.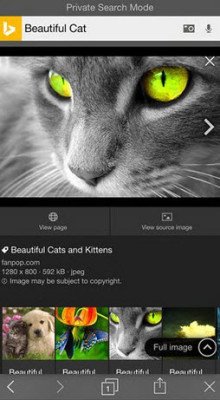 Private Search mode in Bing app for iPhone
The Private Search mode is not the only feature that is added to the Bing app for iPhone. There are several other features that are related to search results. Some of these features are as follows:
Now the image search in Bing app has become a lot smarter. TWCN has already covered the updates regarding the image search improvements in Bing. You can read the related news here.
Besides this, Bing is making video snippet previews in the app viewable inline, so you can continue looking through your search results while the snippet is playing.
There's yet another update in the Bing app search results, which makes it easy to launch apps directly from the search results. The Bing app lets you go beyond the conventional web search and find what you need in your favorite apps.
With this app, you can also launch the right app directly from the results page instead of clicking on web links. Bing has more plans regarding making this process easier and smoother than before.
Finally, you can get the search results using Bing's unique way, i.e. using

emojis

. Emojis were released last year, in which you can search using symbols/cliparts of your search terms. Now you can search using the newly added

emojis

as well as the old ones.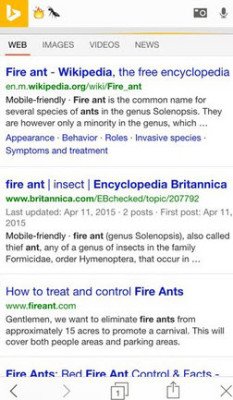 Bing search engine has always brought something unique in the way you search. The same has been followed in the Bing app for the iPhone as well.
You can read more about this announcement on the Bing Blogs.