The eyes of the whole world are eagerly looking at the BUILD 2015 and the announcements made in that by Microsoft. May 1st, 2015 is the last day of this annual developer's conference taking place in San Francisco. The conference kicked off on April 29th, 2015. Here is a glimpse of which notable announcements were made by Microsoft in Build 2015.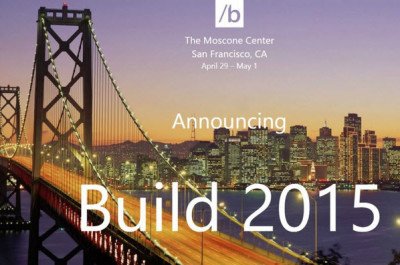 10 Notable announcements by Microsoft at BUILD 2015
Visual Studio will be available on Mac and Linux: At the Build 2015, Microsoft made an announcement that Visual Studio will be soon available on Mac and Linux. The first version of Visual Studio for Linux and Mac was unveiled at the event. Under the name, 'Visual Studio Code', the first version is available from Wednesday ad developers can make .Net code on the Visual Studio platform.
Windows 10 to see Android and iOS apps: This announcement at Build 2015 will certainly make future Windows 10 users happy, as Microsoft announced the availability of Android and iOS apps on Windows 10. This announcement makes Windows 10 arrival more awaited.
Windows Phone can work as a Windows 10 PC: When Windows 10 OS will be released, even the Windows Phone users will be able to take its full advantage. A Windows Phone can work as Windows 10 PC. Also the universal apps on Windows 10 will be able to detect the screen size, and change the interface to better fit the device user is using.
Windows suggesting apps to download: In Build 2015, Microsoft promised to offer a new, but an optional lock screen for Windows 10. The screen will change so as to show you the information you might be interested in. This also includes links to the apps you would want to install; a suggestion from Windows 10.
Add-ins for Outlook.com and Office 365: Microsoft also mentioned that Outlook.com and Office 365 will have third party add-ins; with Boomerang, Uber and PayPal being the first one to develop the add-ins for Outlook. Developers can now make use of open source platform of Outlook APIs and develop various apps to help make the users of Outlook and Office 365 more efficient.
Aero Glass and upgraded Cortana: Microsoft also included the announcement of an upgraded version of Cortana and features Windows 7's Aero Glass design in the Build 2015.
HoloLens will be back with more details: HoloLens was released in January this year. However, Microsoft took an opportunity at Build 2015 to reveal more details about it. Now, HoloLens will recognize and run Windows 10 apps. Besides this, HoloLens will also support Unity, the famous game engines available these days.
Project Spartan is now 'Microsoft Edge': For so many days, we are hearing that Project Spartan is going to replace Internet Explorer. In Build 2015, we get to know the name of this 'Project Spartan' as 'Microsoft Edge'. Microsoft Edge will be Windows 10's default browser, with lots of new features.
Windows Store apps with new changes: Microsoft announced that now any website can be a part of Windows Store, making loading of the same app possible on different devices.
Carrier billing will be available on all devices: Microsoft announced a new system of payment, which will pose as an alternate payment system for non-credit card users. As per Microsoft's announcement in Build 2015, all Windows devices this new system called as 'carrier billing'.
Microsoft went on with several announcements in Build 2015. However, the above mentioned were some the announcements, which really made ripples.
You can know more details about this event from Microsoft's BUILD 2015 website.