After adding several new updates, navigation improvement and features, Microsoft now adds the music section to its Unified Store Experience in Windows 10 Insider Preview. Back in the month of April, the company added Movies and TV Unified Windows 10 Store. Users of Windows 10 Insider Preview can now access Music page in the Windows Store Beta and browse music by genre, albums and top songs.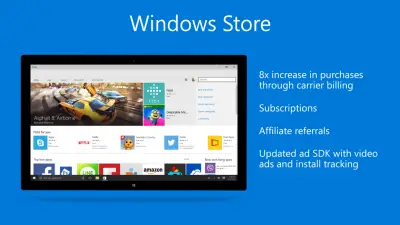 Microsoft has also added the albums purchase feature to the store where users can browse their favorite music, listen to a short 30 seconds clip and then purchase it. However, users still will have to launch the Build 10130 and version 3.6.1068.0 of the Music app to pull the purchased music downloads. For now, the purchase feature is made available only for the U.S, UK, Canada, Australia and New Zealand.
Microsoft is still working on the newly added music section. Brandon LeBlanc, from Microsoft says, "Now that the music experience is almost lit up end-to-end, we're making a few more changes to get us ready for the release of Windows 10 on July 29th. No more "Preview" – out with the old and in with the new! The new music and video experiences are now the default in the Windows 10 Insider Preview. Now when you launch the Music and Video apps, you'll get the new apps. The preview versions will be removed in future builds".
Evidently, the team at Microsoft is working hard to make Windows 10 the best promising operating system ever. Each update of Windows 10 Insider Preview brings some new features like Cortana voice assistant, universal apps, Project Spartan web browser and many more.