Sprinkles the fun camera app is now available for iPhones. With a focus of serving cross-platform and Microsoft recently released the Sprinkles camera app for iPhone users. Quite similar to Snapchat, Sprinkles the camera app brings many funny captions, crazy stickers, and interesting backgrounds to perk up the pictures. Sprinkles, however, is one step ahead of Snapchat as it lets users post these pictures on various platforms like Facebook, Google Hangout and more. Also, it brings some cool fun tricks like guessing your age, celebrity matching to your picture, etc.
Sprinkles Camera app for iPhone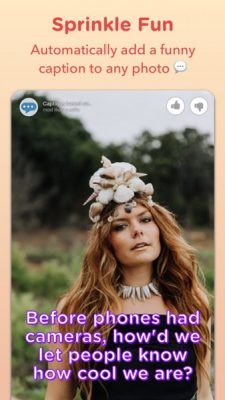 The fun camera app comes with many interesting features and tools. Just click a picture using Sprinkles on your phone and get the instant ideas of adding your own wit. The crazy captions and Smart Stickers with face detection feature will help you adding an extra pun to your pictures. The app also contains hundreds of built-in stickers and emojis available for public use.
Some other fun items in the app include the props like hats, sunglasses, moustaches, and other accessories. The face detection technique helps users to put on these accessories perfectly at the right place. The app also uses the object recognition technique to understand your picture so as to suggest you the right and suitable captions. The captions suggestions are also based on location in the picture or sometimes according to the day picture was taken, like if you have clicked the picture on a Sunday, you might get some funny captions on Sunday.
You can then share this custom image with your friends on social networking websites like Twitter, Facebook or your emails or through messaging. Download the app here.
This is not the first time when Microsoft has released an app for iPhone, back in the year 2016 Microsoft launched Word Flow Keyboard for iPhones and the Selfie app for iPhone. You can take a look at some more iPhone apps for Microsoft here.