It seems like Microsoft is ready to launch Microsoft Surface Duo. In what could be good news for Microsoft Surface fans worldwide, development on the upcoming Microsoft Surface Duo appears to be in its final stage.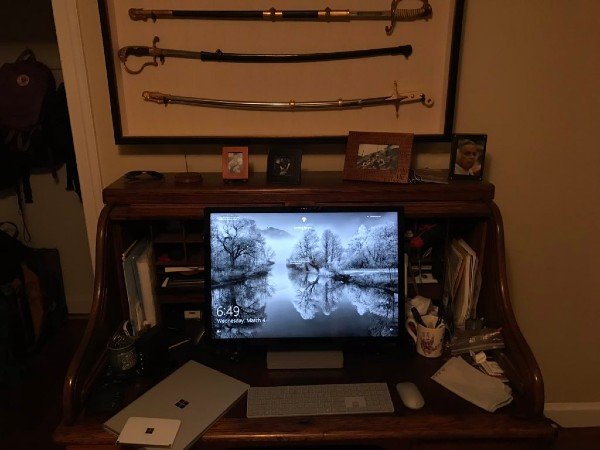 What we are are looking at is the live image of Microsoft Surface Duo, which was recently spotted in a picture shared by Microsoft's Corporate VP of communication, Frank Shaw.
In his recent tweet, Frank shared an image describing his home office setup. Well, in addition to Frank's fancy swords on the wall and hardware on desktop, eagle-eyed Surface fans were able to spot a smaller but easy to catch sight of Microsoft Surface Duo at the left corner of the table.
One could argue that Frank's tweet offering a glimpse of Surface Duo may be nothing more than smart PR/Marketing. But one thing is certain: Both Microsoft Surface Duo and Surface Neo are coming this Holiday season!
Microsoft Surface Duo: Everything we know so far
Microsoft Surface Duo is the company's answer to Samsung Fold and other foldable Android devices out there. Both the screens on Surface Duo are connected by a 360-degree rotatable hinge. While Surface Duo will run Android, the Surface Neo will run Windows 10X operating system.
In terms of hardware, powering Microsoft Surface Duo is Qualcomm Snapdragon 855 SoC.
Rumor has it Microsoft Surface Duo features is 5.6 inches screen when folded and 8 inches one diagonally when unfolded. We are awaiting more details in terms of the number of variants and color options.
Frank, like many other Microsoft employees, is working from his home due to the ongoing coronavirus COVID-19 outbreak. Microsoft has asked nearly all its employees to work from home amid a global health crisis. The company is also offering Teams for free in order to make it easier for people to work remotely.
Microsoft has also pledged to donate $1 million to Coronavirus COVID-19 response efforts in the Puget Sound region.