Microsoft has announced the first build of Project Spartan for Windows 10 Technical Preview users. Project Spartan is a new and modern web browser by Microsoft. Built dedicatedly for the modern web, Microsoft claims it is the most fast, compatible and feature rich browser designed to enable easy sharing, reading and discovery. The new browser comes with first of its kind feature where one can write or type on a webpage.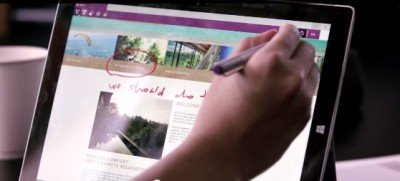 Project Spartan was first announced on January 21 and is now being shipped along with Windows 10 Technical Preview Build 10049.
Project Spartan Preview for Windows 10
A bold new design is what you would first notice in Project Spartan preview. The new design is streamlined and focussed on the page and not on the browser. The features which were revealed in January can now be experienced live. Here is the quick snapshot of features supported by new Spartan browser.
Cortana is built-in and ready to assist: Cortana has been built into the browser. Cortana in Project Spartan is a personal assistant that enhances web browsing experience. The user can creatively interact with the Cortana to get things done within the browser. Cortana learns user's interests and habits to provide more personalised and relevant information which is on demand.  The current build of  Cortana in Spartan is available for United States only.
Inking and sharing to capture and communicate thoughts:  Project Spartan is bringing first of its kind "Web Note" feature.  Almost everyone in the internet routinely  share questions, thoughts, information and comments with friends and their network. New inking capabilities present in Project Spartan enables one to write or type directly on the page, comment, clip and easily share the "Web Note" via mail or through social networking sites – a new way to research and collect information from the web.
Distraction-free reading with Reading List and Reading View: Project Spartan comes with a beautiful Reading List, where one could collect things they want to read and save any webpage or PDF for convenient access later in time. A well integrated, distraction-free Reading View in Spartan helps one to focus on the content.
A new engine for the modern Web: Project Spartan's new rendering engine is built to perform providing fast, secure and reliable experience.
It is important to note that Microsoft will continue to support Internet Explorer for enterprise customers.  Microsoft is enabling a provision for enterprise customers where they can make Internet Explorer 11 as default browser via group policy.
It's important to note we'll have more features and many improvements coming to Project Spartan before we make it broadly available. This preview is NOT a polished, ready-for-everyone release, says Microsoft.
Users can click on the smiley face present on Project Spartan toolbar to send feedback quickly and easily.