Just a few hours ago, we saw Microsoft's Xbox Support Twitter account being hijacked by Syrian Electronic Army, and now Microsoft's News Twitter account, @MSFTnews has gone down the same path. Microsoft hasn't yet acknowledged either of the hack attacks, but was quick enough to remove SEA's tweets.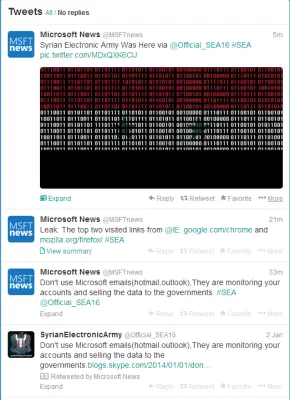 The vicious minds yet again tried to spread the message that Microsoft is monitoring its users' account and selling the data to the governments. They retweeted one of the same tweet from SEA's account, and then went ahead to post some links and photos to make sure that everyone knows that they were there.
But this time hijacking Twitter wasn't enough for them. As CyberKendra reports, folks at Syrian Electronic Army went ahead to hack Microsoft's Technet blog too.  In both cases, Microsoft was quick enough to clear all the mess within an hour.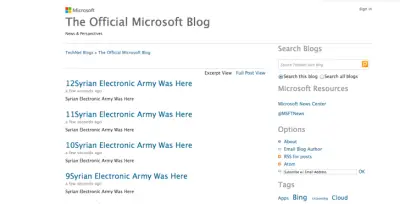 But apparently they weren't secure enough to prevent this attack at first place. This is the third time this month that Syrian Electronic Army had hacked one of Microsoft's Twitter account.  Although they are not accessing users' data or making any database available on public forums, it is certainly an alarming call for Twitter and Microsoft to make their security more sophisticated.