Micro-blogging social network Twitter recently started testing Fleets in India. And yes, for those wondering, Twitter Fleets are the way to post ephemeral content that vanishes after 24 hours. Twitter Fleets enable users to post Instagram-style fleeting content (pun intended). While Twitter Fleets are being compared to Snapchat and Instagram stories, there's a major twist.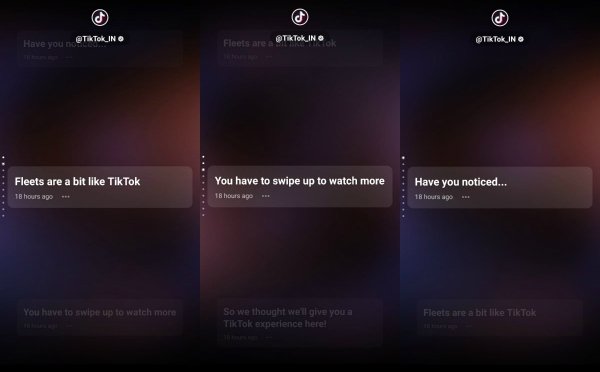 Did Twitter copy TikTok?
In case you have failed to notice, Twitter Fleets don't completely resemble Instagram or Snapchat stories. Their resemblance is solely limited to the fact that your Twitter followers can see your Fleets at the top of their Home timeline, similar to how Instagram and Snapchat users discover stories on their home feed and Discover tab, respectively.
TikTok takes a dig at Twitter Fleets
Twitter Fleets bear a striking resemblance to the way TikTok users swipe up to discover new videos on China's ByteDance-owned popular video app. Guess what? TikTok already knows that Twitter has essentially 'copied' its user experience. In a series on 'Fleets,' TikTok said:
"Have you noticed…(Twitter) Fleets are a bit like TikTok…You have to swipe up to watch more…So we thought we'll give you a TikTok experience here (on Fleets)!"
Taking a dig at Twitter, TikTok then went to upload some of its videos on Fleets, replicating a similar user experience on a micro-blogging social media platform.
Swipe up/down vs Swipe left/right
Unlike Snapchat or Instagram stories, Twitter makes users swipe up to discover new Fleets. Plus, there's no time limit on their visibility.
In-app gestures allow users to interact with screen elements using touch. These swiping gestures were made popular by online dating apps like Tinder, OkCupid, etc. Online dating apps allow users to express their interest in a particular profile by swiping right.
Then ephemeral content saw widespread adoption in social media and instant messaging space, seeking fast-paced content discovery. Guess what? LinkedIn is also working on a similar feature.
Twitter announced Fleets so that users can express themselves in ways that are less permanent and more casual than tweeting. Simply, tap on your avatar at the top left of the timeline to post your Fleet.