Twitter may be trying to become more like Facebook. The microblogging social networking site is testing a new chat Windows that bears a striking resemblance to Messenger. We won't be surprised even if Twitter completely transforms into a full-fledged social networking platform in the days to come. Previously, Twitter announced Fleets — a feature that allows users to post Snapchat-like ephemeral stories that vanish after 24 hours.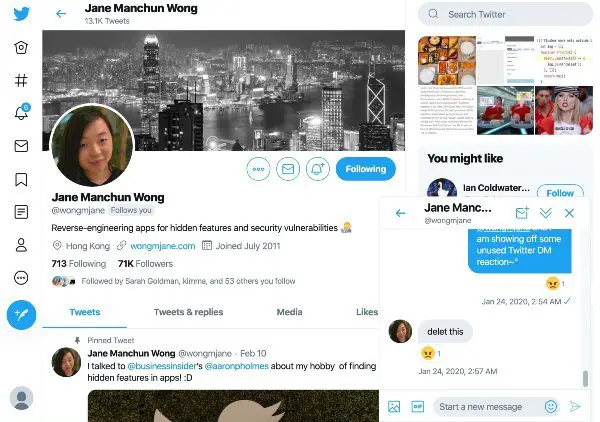 Twitter now testing chat windows
This wasn't quite expected since Twitter has always maintained its open-platform image that allows users to speak their minds publicly. While there are certain privacy options to control conversations flow like who can view your tweets or respond to them, Twitter is becoming more like a closed community and this could very well be a stepping stone to personal communications on Twitter.
Tipster Jane Munchon Wong shared a screenshot offering a glimpse of the docked conversation Window for the Twitter web app:
"Twitter is working on docked DM window for web app"
Docked Twitter DM window for a web app is located at the bottom right corner. As we have noticed in the case of Facebook, the chat window is usually at the bottom right corner. So, Twitter has followed in the footsteps of Facebook as far as user behavior is concerned.
However, Twitter isn't the only social networking website that seems to be going out of its way to adopting something new. LinkedIn has done the same thing in the past. Now, if you go to LinkedIn, the conversations appear at the bottom right corner in the same fashion as Facebook Messenger.
Twitter has realized that not all conversations happen publicly and sometimes, users prefer to talk to each other over DM. But to access messages on the Twitter website, users have to navigate to a dedicated Messages tab. When you tap on messages, you cannot view your Twitter home feed. This is something Twitter may be looking to address.
Going forward, we can safely assume that Twitter users can interact with tweets and communicate over direct messages all at the same time.