WhatsApp, the popular mobile messenger has updated its iOS application with voice calling feature. The calling feature update was first released yesterday (21 April 2015). Earlier this year, CEO of WhatsApp announced about WhatsApp getting calling feature in CES 2015 event. WhatsApp wants to bring the calling feature across all platforms including Android, iOS, Blackberry and Windows Phone. iPhone users can now enjoy calling feature as and when the roll out has reached them.
WhatsApp calling for iPhone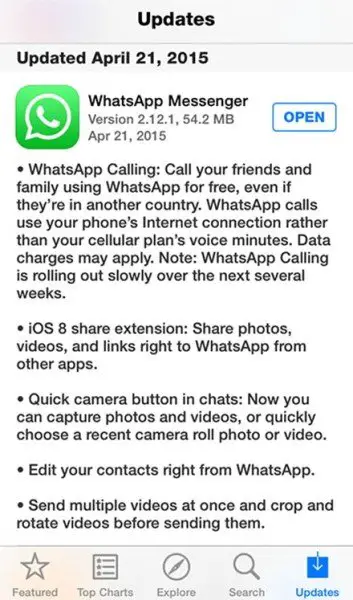 After the update, the application description in the Apple store reads,
WhatsApp calling: Call your friends and family using WhatsApp for free, even if they're in another country. WhatsApp calls use your phone's Internet connection rather than your cellular plan's voice minutes. Data charges map apply. Note: WhatsApp Calling is rolling out slowly over the next several weeks
With this update, WhatsApp has officially confirmed that voice calling feature is coming to iOS users. The new calling feature is going to be available for every iOS user within couple of weeks. Prior to this, WhatsApp launched calling feature for Android in a phased manner carrying out a lengthy beta testing making it an invite only – which also lead to viral Invite Scams.
The latest version 2.12.1 of WhatsApp includes an iOS 8 share extension, a quick camera button in conversations view, the ability to edit and save contacts right from WhatsApp application and also an option to send multiple videos at once. Now, one could also crop and rotate videos before they send . The iOS 8 share extension allows users to share photos, videos and links directly to WhatsApp from other applications.
The addition of voice calling feature to WhatsApp is a potential threat for the business for Skype and Viber. However the WhatsApp call quality on 2G and 3G network is below par – the company has to address the call quality issues to stay in the voice calling business.