The popular search engine Bing has been pushing a plethora of new features into it. Whether it is  the collaboration with Klout to bring your Klout score and relevant information to the search result, or teaming up with 500px to display elegant background to its homepage, the search giant has been improving and innovating every day. In its latest addition, the search engine has a developed tool Bing Image Search app that can help you add images to your Word document without having to open your browser.

Search & Add images to Word document without opening browser
Bing Image Search lets users search for images using Bing search engine  from within the word processor. Once you have installed the add-in (for which you need to be signed-in with your Outlook or Live Id), just selecting a word will make the app search for images. Obviously you can tweak the settings as you prefer, and can make the search manually.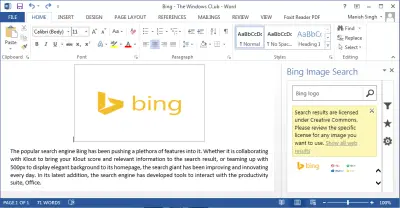 The result can be filtered and sorted on the basis of color of the images, their sizes, type of the file, layout and people.
Add Bing Image Search app to Word
Adding any app in Word 2013 is quite easy. To add any feature, the simplest way is to first login to your account, and go to the Insert tab from the ribbon menu. From there, click on the 'Apps for Office' from the 'Apps' pane. Click on the "featured apps" and search for "Bing Image Search" (without the quotes). This will open the Bing Image Search app in the right side bar. To invoke it in the future, you may have to select it from 'Apps for Office' list again.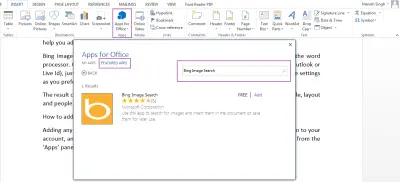 The feature is supposedly only available for US users as of now, but although the official Press Release isn't accessible from all around the world, the Word processor is able to find and install it from any part of the globe.