Microsoft Teams is set to increase the number of participants you can view at a time during a meeting. The company has made an announcement in the wake of the ongoing coronavirus COVID-19 outbreak. Over the last several days, the consumption of Microsoft Teams has skyrocketed like never before. As a result, a significant number of users who are currently working from home continue to join with their colleagues over Teams calls.
Microsoft Teams will allow you to view 9 participants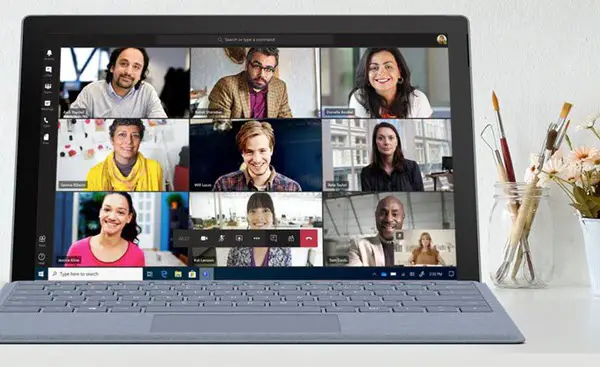 In its user feedback forum post, Microsoft wrote:
"We will start rolling out our first update to view nine participants simultaneously by the end of April. In parallel we are continuing work to increase this limit even further. Stay tuned!"
Currently, Microsoft Teams allows meeting participants to view up to four most recent active participants simultaneously during a video call. For all other participants, Microsoft Teams shows icons on the bottom bar.
The upcoming change to the number of participants you can view simultaneously has long been requested by Microsoft Teams users. Some users have been requesting the company to shrink the size of the thumbnail of the video feed for Microsoft Teams users who have their webcam turned on.
This way, according to users, everyone in the video conference can see the reactions of others, irrespective of who was first or last to speak. This has never been a problem with most enterprise video calling apps.
Google Meet is probably the only video-conferencing service right now to provide users with the real-time video feed of all the participants on the screen simultaneously.
Recently, Microsoft revealed that the consumption of Teams has touched 2.7 billion meeting minutes on a daily basis, recording a 200 percent increase from 900 million daily meeting minutes from last month.
Since the COVID-19 outbreak, companies have transitioned to work-from-home arrangements and as a result, the use of enterprise video-conferencing apps including Microsoft Teams and Zoom continues to increase.
In addition to a remote work situation, Teams' consumption has also gone up due to a sudden increase in terms of students and teachers around the world switching to distance learning. Currently, there are 183,000 tenants in 175 countries using Teams for Education to fulfill distance learning.